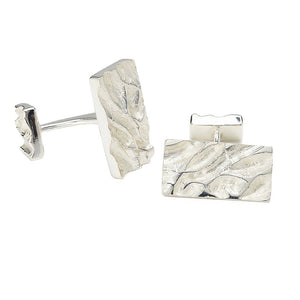 Inspired by the frozen rivers of Iceland, the contrasting matte and satin finishes make these sophisticated cufflinks glisten giving the illusion of a rapid current frozen in time on a crisp winter morning. The weight alone of these substantial handmade cufflinks are a sign of quality and craftsmanship. These cufflinks are a beautiful personal gift for grooms and groomsmen to mark that special day.

Handmade and hand finished 925 Sterling Silver.
All pieces are assayed and hallmarked by the Dublin Assay Office to guarantee quality of the precious metal used.

For international orders, please visit the Shipping Policy page to understand Customs and taxes.